Having enjoyed a few years on a local syndicate estate lake, a change of scenery was needed. I was using Vortex baits freezer range boilies which was doing the business for me. The new place was a very deep gravel pit which was a bait boat hell, loads of particles going in, and not many boilies. Having scratched my head for weeks thinking of a plan of action . I noticed that a lot of corn was being put in . I decided yellow pop-ups and a dark coloured feed boilie spread out over the spots would be a better approach for my type of fishing. The fish were used to picking up yellow food particles so yellow pop ups would stand out over a dark bed of boilies. A chat with Nigel from Vortex was needed what he doesn't know about bait isn't worth knowing. He soon put me right and dark red Hydro Shrimp and Shellfish boilies were ordered. With this range you can customise the bait so plum and honey was added when I received my first order, I just knew it was right. The confidence a top quality bait gives you is priceless and when it's at the right price as Vortex Baits is its awesome.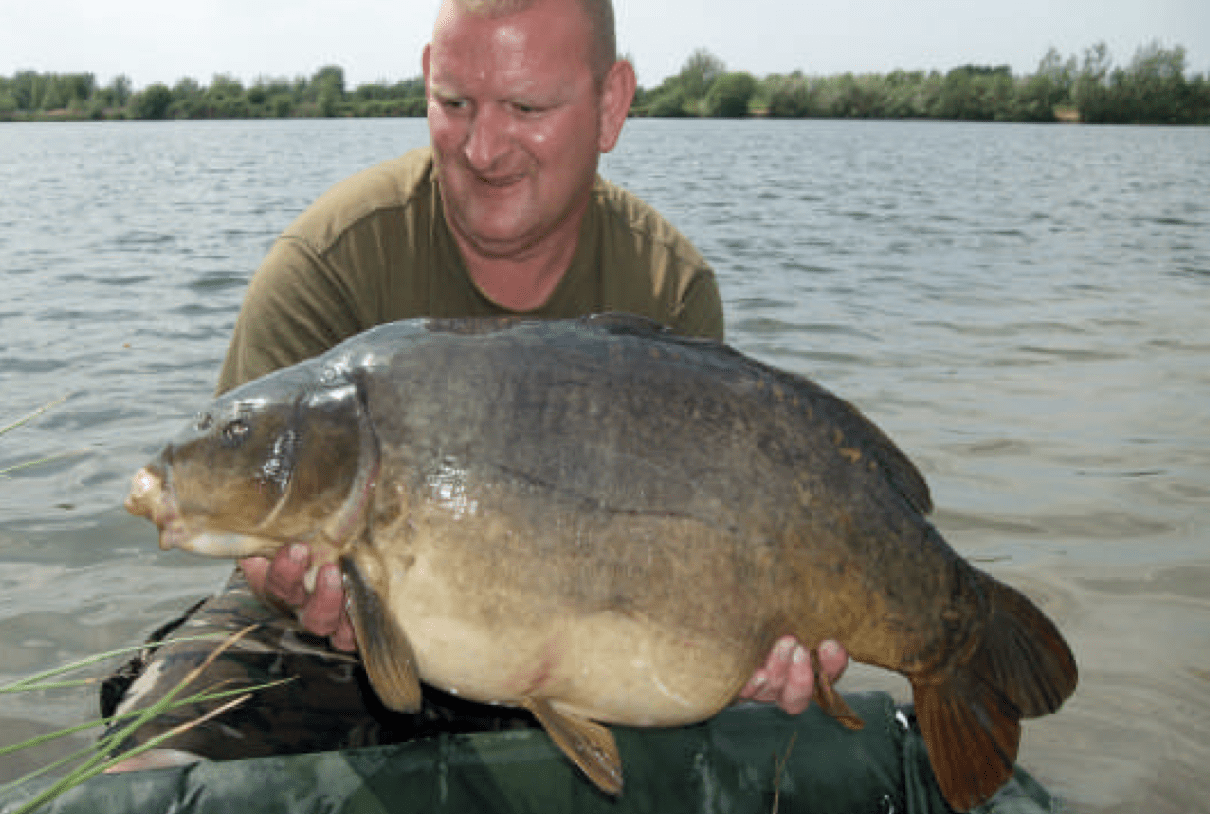 June the 23rd saw me on the banks of one of the pits, I could only day fish whilst waiting for the main ticket which allowed access to another pit with big commons in and night fishing on them both. Fishing from first light till dusk has never suited me but was the only fishing on offer. There was a good head of twenties in the pit so I decided to feed them byputting four to five kilos of boilies in each day. Mirrors of 22.10 and 16.02 graced the banks and I was well chuffed. Fishing one or two days a week I was catching well, a mirror of 25.02 on the 8th of July and a mirror of 25.06 on the 4th of August. With the bait going in it was just a matter of time and on the 10th of august I had seven fish all were mirrors 18.02 , 20.06, 25.02, 8.10, 20.08, 23.08 and 18.12.
Wow now were getting somewhere, I got down at 12 noon the next day but still had mirrors of 25.08 16.14 18.04 and 14.12.On the 24th of August eight mirrors to low 20s was awesome, on the 7th of September a mirror of 27.12 was the icing on the cake and signaled the end of my fishing year due to other commitments.
The following year saw myself armed with a full ticket and a freezer full of Vortex boilies to say I was excited was an understatement. I started on the 21st of March on the same pit I had fished the previous year. Bythe 23rd of May I had caught twenty three carp eight twenties and the largest was 25.06.
On the 23rd of May I could fish Sunday and Monday night and a better start I could not of wished for ,thirteen mirrors from 13.00 to a cracker of 31.12.
I moved onto the next pit with ideas of getting amongst those big commons, up to the 26th of July I had another thirty one carp including ten twenties with a 26.04 mirror and a 25.12 common being best ,on the 26th I cast out
at half past six and seven o clock a rod ripped off I could not believe it, over two nights I had mirrors of 22.02 24.10 and 28.10, two small commons of 18.00 and 19.00 and to top it off a belting 32.02 common what a result.
I carried on doing two nights a week until the 11th of October and ended up with another twenty three fish, fourteen twenties, and commons of 25.10 26.06 27.06 27.14 28.02 and a linear of 27.10.
The next year could not come quick enough and I started on the 13th of March. During March I caught eight fish ,two twenties and a common of 24.10. April was a lot kinder to me with eleven fish, eight twenties, mirrors of 27.12 and 28.04 and a common of 25.04.What happened in May left me stunned and still makes me smile today.
May the 2nd, the swim I had hoped for was taken and my friend and mentor on the pit Dean talked me into fishing a peg I had not fished before. The traps were set and I retired to my bivvy early. The screaming nev sounded at 11.30 pm and after a short scrap a common of 17.08 was gently slipped back, I noticed it had a lot of leeches on it which was unusual. The rod was recast,45 minutes later I was in again, this was also a common 23.12 and again leeches on it. Again the rod was recast. I was really pleased and soon drifted off to sleepy ville. Awake again, a look at the watch as I lifted into the fish said 3.30 am and this fish felt bigger, this fish was not playing ball, after what seemed a lifetime the fish was in the net. The scales went to 31.02 it was a minter, scale perfect and really dark common.