What a year!!! Early April 2012 a few mates and I from a local syndicate (Stubbing Court) decided on a French trip. We went to fish a lake called Heron on the Abbey Lakes Complex, where I went on to land the venues biggest resident called Shoulders at 80lb; a well-known big mirror. Awesome and stunning doesn't come close to describe this creature combined with a couple of mid 40s to boot.
Just when I thought the year couldn't get any better, I was introduced to Nigel at Vortex Baits and my new British pb common 37lb followed shortly. Things hadn't been going too well with the bait company I was currently testing for so I was on the look out for a change.
It was time to commit 100% to Vortex Baits. Nigel was only to happy to show me all the basic ins and outs of what makes an exceptional bait, that not only works instantly but consistently catches long term. With a bit of advice from Nigel and Darren my starting point was the awesome Hydro Shrimp and Shellfish boilie. This bait was already catching all over the country and I had no doubt it would for me, so an order for 20 kg was placed. LET'S GET STARTED!!!
A1 Pits early May

Venue and location
I was introduced to Vortex Baits a week before fishing A1 Pits and so was waiting for my bait order to be completed. In the meantime I needed some bait out of Nigel's freezer for my 48hr session. As most folk in the East Midlands know it's a highly pressured big fish day ticket water, so I thought for this session I was going to try something a bit different. In Nigel's freezer The Grub caught my eye, so armed with a couple of kilos of Tigernut Crunch Grub I was ready.
On arriving at A1 Pits at about 7.00pm on a Friday night my first choice to target a 30lb+ common was Pit 5 but this was so busy I set off for a look around Pit 6. Although twice the size of Pit 5 it still offers a good chance of a big common. I have often noticed on previous sessions that on Pit 6 a lot of anglers make a common mistake of chucking as far as they can, thus limiting presentation and accuracy. I'm not saying they don't catch because they do, but I can't just chuck and hope. I feel that to snare a big un you need know everything's sitting perfect.
And it couldn't have been more perfect! On walking round I found a few fish rolling at about 60 yards in a quite corner on the Railway Bank and with the light starting to fade it was time to find my spot. I didn't want to put the marker out having seen fish rolling, so I put a small lead on the rod and had a quick lead about to limit disturbance. I just wanted to make sure the area I was targeting was clear and a small amount of weed doesn't bother me with my tactics of small solid bags!!
Time to get the rods out; I planned to fish 2 rods tight together on the spot I had found at 58yards. The remaining rod was positioned tight to the carpy looking margin that ran to my left hand side.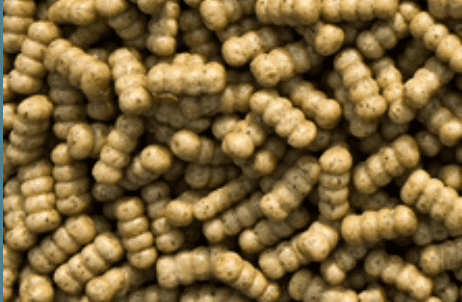 All clipped up, out the rods went. My plan was not to put any bait out and see what happens. I knew there were fish in the swim and just hoped the pulling power of the solid bags might just be enough to pick me up a bite or 2. If nothing happened over night then I would put out 12 spods of Coconut Crunch stick mix, hemp, crumbed and whole Tigernut Crunch Grub on my 2 rod spot and leave the margin rod to my left untouched.
Rigs
My rigs on all 3 rods consisted of a 5" braided hook link KD style, utilizing an inline 2oz drop off lead and 10" of leadcore, all pinned down with the use of fast sinking mainline and mega slack lines. The solid bag content was crumbed, crushed and sectioned Tigernut Crunch Grub, with 3 sections of Grub on the hair with a bit of cork to tip it off.
By 10.30 pm all 3 rods where out and fishing. With the bivvy set up and the kettle on I lay back on my bed chair with a brew in hand and my mind was racing. I was thinking of all the ways of utilizing the Grub, hooking arrangements, baiting, pop ups, bottom baits; the possibilities seems endless. I must have dropped off pretty quick because the next thing it was 3.30am on Saturday morning with my middle rod screaming off. As I lifted into the take, I instantly thought that it was a decent fish. It then plodded slowly in deep water, 10 minutes followed and I still did not know how big it really was until I netted it.
Taking a big sigh prior to looking into the net I instantly thought 'bloody hell it's a 40lb common' just the size of it laying there in the net convinced me of that fact. After securing my prize in the floatation weigh sling, I took off down the bank to fetch my mate Marra who was 2 pegs down. Waking him up with the words "mukka I think I've landed a 40lb common" to say he was out of his bivvy fast was an understatement, off we headed back to my swim where I revealed my catch to Marra. He said "that's big dude" so on to the scales she went and what a fish!!
Nothing else was to come Saturday as a lot of the carp had started to spawn. Trying to get the attention of the fish that weren't spawning out went 12 spods over the 2 rods on the main spot. 2 solid bags were clipped up and put back out at 5.00pm ready for the carp to come back into the area. Sunday morning soon came and I was woken to another run off my spodded area, resulting in a small double to end the session.
All we talked about on the journey home was getting on to our syndicate water Stubbing Court armed with our new bait; Vortex Baits Tigernut Crunch Grub. We could not wait and I will let you know how we got on later
I hope this blog and the success Vortex Baits is having across the country will help you to concentrate on other areas of your carp fishing. There is now no need to wonder what bait to use, as using any of the products in Vortex Bait's range you are assured of using the best and can be confident that it will catch.
All the best
Lee Ward