It was early May 2008, me an my fishing partner at the time Steve both had some time on our hands, due to there being a gap in our work commitments, so we decided to find a water to target for the forthcoming months. After a few phone calls were made Moorgreen Reservoir in Nottinghamshire was to be the chosen destination, as this was somewhere that had interested us both for a while and was also close to Steve's house which would give us a base camp, and somewhere to clean up and eat "Thanks Shirley".
We arrived at the lake on Sunday evening and after talking to the bailiff Peter and paying for our tickets we ventured off in search of those wonderful carp.
We came across a few anglers who initially gave us the usual comments such as "it's really hard and you won't catch" this being the "Same old, same old"
At the time the only two swims we knew about were Mud 1 & Mud 2. I say knew I really meant heard of as this was such a big reservoir around 38 acres we both thought this would be just as good starting point as any.
On the first night around 10pm Steve had the first take and I netted our first carp at just over 21lb, what a peach it was with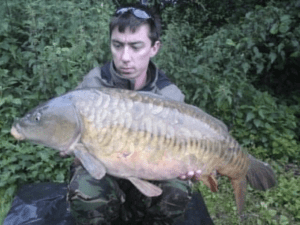 lovely colours and a pretty scale pattern. We did some pictures and returned the fish, a quick cup of tea and a few jokes about what we'd earlier been told "Wouldn't catch, ok then" and it was time to hit the sack.
On the second evening whilst eating our tea, I noticed some fish
crashing to my left, in front of a swim I now know as 'The Stump'.
I made up a PVA bag containing a few crushed boilies, pellets, andthe important shrimp liquid, rig placed inside and fired it towards where I'd seen them, it landed around 3 yards short and hit the bottom with a firm 'Donk'.
Around 2hrs later I had a single bleep on the left had rod, as I looked up the buzzer let of an almighty single toner and after a short battle Steve netted my first 'Green' carp, an upper double but a carp none the less.
In the early hours Steve had another fish again a low 20 and another really pretty fish. Next morning we went for a wonder down to the snags at the bottom end of the reservoir and found quite a few fish, after watching the fish for a while we decided to have a go stalking for them. So back to the bivvies, rods prepped and baited and back we were in a flash, there were still a lot of fish present at this time and it didn't take long to get a bite, unfortunately Steve lost the fish pretty much instantly. I remembered thinking on the way round how awkward it had been to reach the swim and fish it, and was soon to realise why, "What you doing lads" said Pete from the path way as we crawled through the brambles, "Stalking" I replied, "You can't fish there, the last swim you can fish it right back up there" said Pete, very apologetically I explained we didn't know and he was very understanding, after a bit of cursing anyway.
On the walk back we choose to move and fish as close to the snags as possible, so if the fish did return we had traps already set, this meant I'd fish the point swim and Steve would fish in the swim to my left. That week Steve bagged another 7 carp, and I had another upper double at the end of the week, it was around this time I first got introduced to Nigel and Vortex Baits. Time for a change I thought new bait, new plan, we moved back into the Muds and after 4 blank nights, enough was enough I needed to do something sharpish.
The next day I ventured over to the field side of the reservoir, I had been told that not many people fish this, especially gate two as it was so far and the weed was horrendous, "Perfect" I could be left to get on with my own thing. Whilst looking through the swims I opted for 'Goose point' as this was pretty much in the middle and gave my a good area of water to go at.
By this time we were quite friendly with Pete and after asking him very nicely he kindly picked me up and drove me and my gear around to 'Goose point' with the quad and trailer, 'Sweet'
I set up and got the marker rod out, after a few chucks, I found a lovely silty area around 65 yards out, I marked everything up and paced out my marks in the field behind, I then made up around 15 kilos of method mix, containing 15mm Hydro-Shellfish, Insecta Red crumb, Haemoglobin pellets, and some dried crushed insects Nigel gave me. This stuff was amazing as when the balls broke down the dried shrimp would look as though it was alive swimming away from the bottom, surely this would entice the carp.
I made up around 15 balls and fired them out using my Whopper Dropper Pouch attached to my rod, awesome idea with practice you can easy get the balls up to and in excess of a 100 yards. Both rods were cast a foot either side of the marker, both with method feeders, 4″snake bite hook links, with size 8 long shanks, line aligner style, and baited with 15mm bottom baits.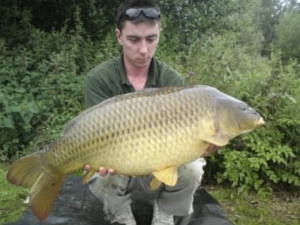 On the first night around 12am I had a take and after a 15min battle I netted my first 20 at 22.06. I was well chuffed, plus it was a peach like Steve's two. Over the next two nights I had 3 more fish, Steve then decided to join me and went in the 'Jungle swim' to my right fishing open water. I topped up the swim with 10 balls which became a daily thing in fact at times I did it morning and night.
The following morning I was awoken by a few bleeps, followed by a one toner. The fish raced around in the open water for a while, and by the time it was ready to net a starry eyed Steve arrived to do the honours, "That a better one youth" said Steve whilst lifting out the net
and placing the fish on the mat, he was right not a monster, but at 26.08 I was well pleased.
We decided to go home for a few days and return on the Sunday afternoon. Back in the swims and feeling fresh once again the balls were sent flying to the marker, and the baited rods positioned.
At around 12am my receiver began to scream at me and I ran to my swim as we were having the usual tea and smoke social at Steve's bivvy, again another low 20 was netted, and sacked ready for some first light pictures.
Over the next two weeks I tallied up 16 fish with a lovely common, just ova 25 and a couple of mirrors 24 and 27, all falling to the same tactics. The following week I opted for a new game plan, this week they were going to get it big time, I made up around 50 balls and launched them out to the marker float to the disbelief of the other anglers fishing at the time, "ba doo sh", ba doo sh" as they hit the water, fear not I was happy and just knew they'd eventually find it. The first two nights I blanked not surprisingly and on the third night around 12pm, you could almost set your watch to when the bites were coming, I had an upper double mirror. Wednesday night was a night of rest as nothing happen at all to my surprise but to my shock I was woken around 6am to a short burst of bleeps and after the usual battle the net slipped under a low twenty common at 22.03, pictured then returned safely.
I then decided I would use the opportunity to go and freshen up in the shower block behind Pete's, on my return Steve's face said it all "Put your waders on youth and go look in that net". I could see the nets spreader block sticking out the water around ten yards in front of my swim and noticing I had two rods up against my bivvy, "How big" I asked "Another twenty" Steve replied, although I didn't claim the fish as I cast out he reeled in I still took a picture for keep sake. Steve proceeded to tell me it went off about 10 minutes after I left and the fish had been crashing out all over my bait. I quickly re-baited both rods and fired them out to there desired marks hitting the clips perfectly. Bobbins set, kettle on, time to relax or maybe not.
The left rod let out a single bleep with the hanger starting to rise, I hit into the fish which then decided to take me for a walk around the lake for about 20 minutes, as Steve went to net the fish he laughed, "What is it" I said "Another twenty youth" "Shut up" I said "No really it is".
I couldn't believe it and at 23.12 it was yet another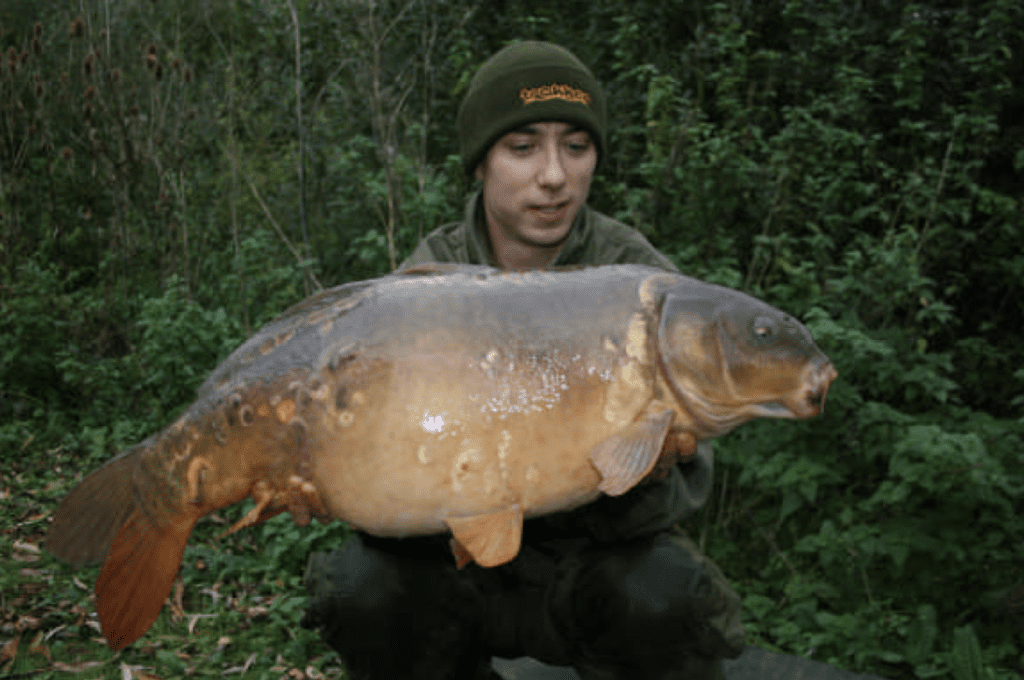 twenty pound common, I remembered thinking this is
unreal. Little was I to know after casting out again I had
yet another twenty pound common at 25.04, followed by
a stunner at 26.03. Wow what a morning this was turning
into as I sat back thinking for a minute, bleep, bleep,
bleep. The right hander was away again an yet
another twenty pounder at just over twenty two pounds,
sadly to say my last ever Moorgreen carp had been netted, pictured and returned safely to it's home.
5 twenties in 2 hours ok 6 if you count the no claimer, unreal and definitely not forgotten in a hurry. I'd had so much fun on the Green but by this time my mind had been side tracked by other things. I'd been to visit my friend Danny from the Bluebell Complex in Peterborough. Seeing the pictures and hearing about the weight of the creature, plus the back up fish I was taken, hook, line, and sinker. Bluebells Swan lake was all I could think about.
I'll save my account of Bluebell till next time but before I go I must mention Steve returned to the Green at the end if the year for a quick over night session and bagged the 'Big Girl' at over 40lb good angling mate.
Also a big thank you to Nigel because without his amazing ability to supply and deliver the bait as and when I needed it made this all achievable, Top man, Top bait,
Tight lines to all